Parrhesia Berlin
Parrhesia: School of Philosophy, Berlin e.V. is a non-profit teaching and research organization devoted to the public practice of philosophy. It is a proud chapter of the Melbourne School of Continental Philosophy.
All comers are welcome: our courses and events have no entry requirements or assessment.
Lecture this Monday 27 July!
Lecture by Dr Derek Hook
Monday 27 June 2022
7pm (Berlin Time)
Intensive July Summer School
Parrhesia Berlin invites you to an Intensive July Summer School. We are presenting three courses that delve variously into questions of difference, division, unity and emancipation in education, politics and art. More specifically, each presents various articulations of the singular and the universal.
our own
inability to accept and celebrate difference. Her lines clearly link difference to a logic (or logics) of emancipation that concerns us all. Difference is then not about difference
per se
but about also broader logics of emancipation, in which, beyond market mechanisms, singularity can be genuinely celebrated – or affirmed – not as an all too easily commodifiable object, but as a process. The celebration of difference then becomes a difference in celebration!
The Spring School runs for 2 weeks. Week 1 is from 18-22 July and Week 2 from 25-29 July. Each course is 10 hours in length. Attendance is in-person and online via Zoom. Please register as soon as possible as in-person places are limited. Each session will be recorded and made available to those unable to make the schedule.
Parrhesia's courses allow for a wide variety of subjects extending from film theory to the history of philosophy, from theories of technology and art to contemporary political concerns. By offering the option of doing multiple courses for only a little more than the single course price Parrhesia encourages students to broaden their experience of different philosophical traditions and themes.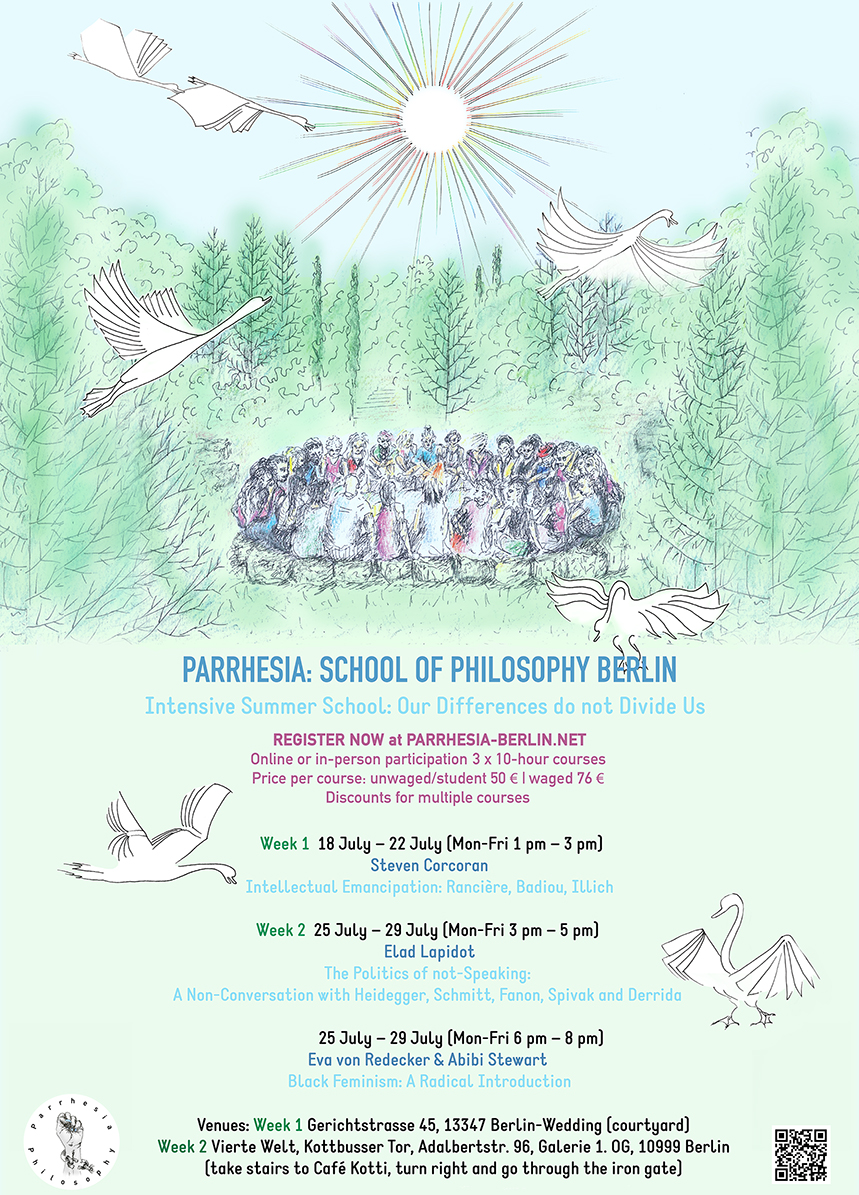 Drawing by Joulia Strauss. Avtonomi Akadimia in the Akadimia Platonos 'BlackRock Protest Semester' 2017. Design by Eirini Vlavianou and Natasa Efstathiadi
Information for participants
Photos may be taken at Parrhesia events and subsequently published on the website; the consent of participants is presumed. For more information about the courses see the enrolment page.